Browsing the Web > Changing your Proxy and Privacy Settings
Strata provides you with an Options dialog that enables to edit preferences related to browsing the web, including proxy settings and privacy settings.
Changing Proxy Settings
Depending on your circumstance, you may be required to use a proxy to connect to the internet. Proxies are often used by corporations and other organizations along with firewalls for security purposes. The proxy acts as an intermediary between your browser and the internet.
If you need to browse the internet through a proxy, you may change your proxy settings by selecting Options from the Tools menu. Then, select the Internet tab.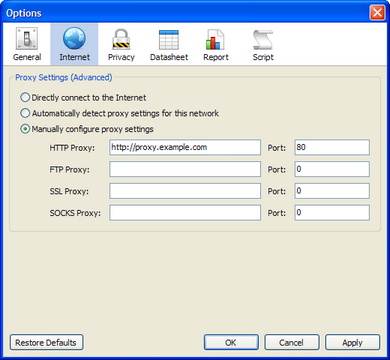 You may change your proxy settings by clicking on one of the following radio buttons and editing the settings, as required:
•

Directly connect to the Internet.

This is the default option that will connect you directly to the internet without using a proxy.
•

Automatically detect proxy setting for this network.

This setting will automatically attempt to detect and use the proxy setting on your network.
•

Manually configure proxy settings.

This option enables you to manually configure your proxy setting. Obtain the proxy information from your network administrator and enter the settings (proxy server and port number) into the appropriate boxes.
Once you have finished setting up your proxy, click Apply or OK to save these settings.
Changing Privacy Settings
Select Options from the Tools menu to bring up the preferences panel. Select the Privacy tab to bring up your web privacy settings. This panel enables you to control the following things:
•

Block Popup Windows:

When this box is checked, popup windows will be blocked from opening up. If you wish to see a popup, remove the check mark from this box, select Apply then and refresh your web page.
•

Cookie Management:

Cookies are often required for websites to perform various functions. However, you may manage how cookies are handled. You may either choose to keep cookies around indefinitely ("until they expire") or you can remove all cookies upon exiting the application.
•

Clear Private Data:

Clicking this button will give you the ability to remove all private data that has been stored in your browser during your web browsing sessions.