Designing and Printing Reports > Working in the Layout View
The layout view is like a print preview. This view actually displays the report as it would appear if it was printed or saved as a PDF file. However, in addition to seeing the report, you can also directly edit within the preview. This makes it very easy to make minor adjustments like expanding columns or changing the format of some text. The Design View and Layout View are mirror images of one another -- one is a template and one is the report preview.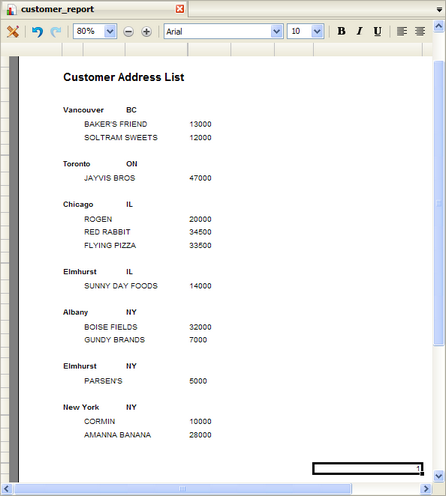 To see the template/design view for the report above, see the screenshot in the Working in the Design View section.
The controls for editing the layout view are almost identical to the design view, with a few exceptions, including resizing rows and coloring columns or rows. However, this can be done in the Design View. See the section Working with Columns, Rows and Cells, in the section Working in the Design View for further information.
Learn More
For further information, please see the following sections: